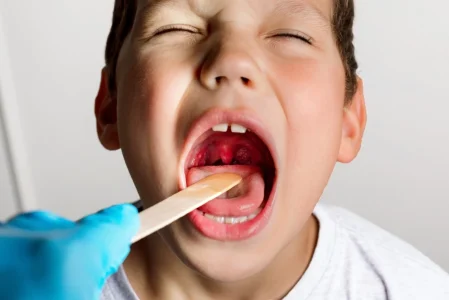 Adenoids are the 3rd tonsil in our body, located at the back of the nose. Just like tonsils, adenoids also help protect the body against infections in early childhood. But enlarged adenoids can cause problems for a child:
Adenoiditis: adenoids can get infected, resulting in a condition called adenoiditis which is often caused by bacterial but can also be caused by respiratory viruses.


The signs of Adenoiditis is often characterised by the following symptoms:
Nasally voice while speaking
Sore or dry throat
Breathing through the mouth, as breathing through the nose becomes uncomfortable
Snoring while sleeping
Severe adenoiditis can give rise to ascending middle ear infections compromising a child's ability to hear

Snoring & Noisy breathing : Enlarged adenoid can be a cause of snoring or noisy breathing in children. If severe the enlarged adenoids cause obstructive sleep apnoea.
Treatment for adenoiditis can include any of the following, depending on the severity of your case:
Antibiotics
Pain relief medication
Fever relief medication during acute attacks
If frequently infected, your ENT doctor will recommend a small surgery known as Adenoidectomy.