Cochlear implants are the most powerful hearing device available currently. It is recommended for patients who have severe to profound sensorineural hearing loss, and who have tried hearing aids but found them ineffective. At Aurion ENT, our doctor is highly experienced in evaluating patients' suitability for Cochlear implants. Once assessed suitable, our doctor will perform a short surgery to embed the implant in the cochlea, and you will work with our team of hearing professionals on auditory rehabilitation to be able to hear again and communicate effectively with everyone around.
What to expect with a Cochlear implant?
Hear speech without lip reading
Hear speech in noise
Hear high frequency sounds
Able to decipher sound direction
How does a Cochlear Implant work?
Cochlear implants are the most powerful hearing aids available at present because they directly stimulate the hearing cells within the cochlear, bypassing the outer and middle ear.
Figure 1: Audiogram of a patient with bilateral severe to profound hearing loss
This is what a Cochlear Implant looks like and the parts of the Implant as labelled: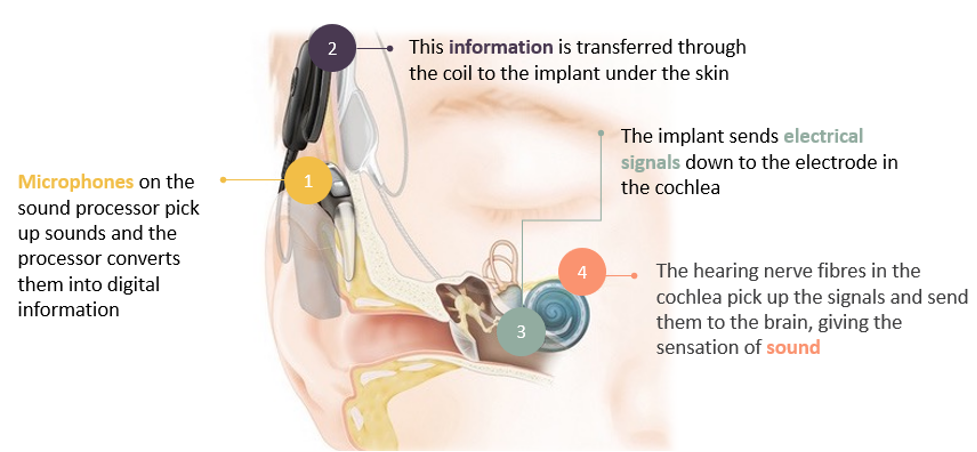 Figure 2: Parts of a Cochlear Implant which consists of externally worn processor and surgically implanted receiver and electrode array which sits in the Cochlea (the snail like hearing organ in our body). Infographic courtesy of Cochlear Singapore.
How does a Cochlear Implant work?
Sound reaching a patient's ear will be captured by the microphone on the externally worn processor.
This sound is amplified and converted into electrical signal within the speech processor.
This electrical signal then travels through the transmitter coil externally to the receiving antenna within the patient's body which is part of the surgically implanted cochlear implant.
The internally implanted receiver conveys the electrical signal to the electrode which lies in the Cochlea. Depending on the frequency of sound which needs to be amplified, different electrodes at different parts of the Cochlea will be stimulated.
Hearing cells within the Cochlea are electrically stimulated and convey the sound signal to the patient's auditory nerve and brain.