Bone conducting implants are a special type of hearing device for patients with :
conductive hearing loss or mixed hearing loss
microtia
hearing loss due to previous ear surgery
chronically discharging ears
perforated ear drums or
single sided deafness.
For patients with a moderate to severe conductive hearing loss, hearing aids may not help their hearing much and they need to consider a bone conducting implant.
Benefits to expect from a Bone Conducting Implant
You can hear better, even in a noisy environment
You will enjoy a clean, more natural sound
You will enjoy better speech recognition compared to hearing aids.
Hear sounds as if they are coming from both sides
How does a bone conduction implant work?
If your external ear and middle ear is damaged or has missing parts, is difficult for sound to reach the inner ear. A bone conduction implant works by bypassing the parts of the external and middle ear which don't work.
Sound is picked up by the microphone and transmitted into vibrations
These vibrations are sent through the skin to the implant that is located in the skull bone and then onto the healthy inner ear.
A bone conduction implant system has the following main components:
External sound processor
Connection between sound processor and implant (2 options)


Option 1: via a magnetic connection with no external protrusion in the skin
Option 2: via a direct connection through an abutment which protrudes through the skin.

Internal implant which needs to be surgically implanted into the skull bone.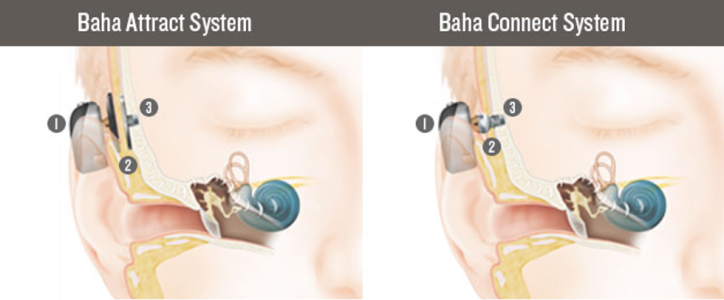 Figure 3: Item 1: BAHA processor, Item 2 BAHA implant connection which can be magnetic or an abutment, Item 3: internal implant.
How do I know which Bone conducting Implant is suitable for me?
Let our doctor evaluate you and recommend a suitable implant for your level of hearing loss and lifestyle needs. The advantages and disadvantages of each type and brand of implant will also be explained to you.